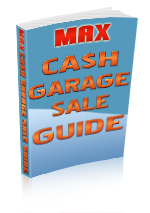 Articles
Advertise your garage sale, yard sale, rummage sale, moving sale, estate sale!
If you advertise, they will come. Advertising is crucial to having a successful sale, and advertising in many forms will help ensure you reach as many potential customers as possible...
Getting ready for your sale!
To begin, you must decide what kind of sale to have, when to have it, and how much stuff to get rid of. Then you'll need to gather and prepare your stuff to sell...